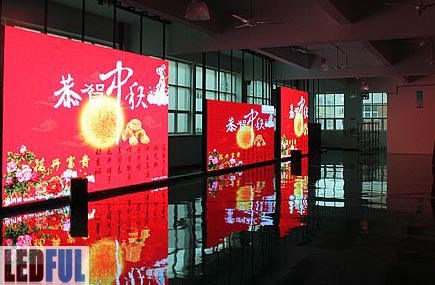 Cool autumn, delicious moon cake. Today is 15th day of the eighth lunar month. It is Chinese Mid-Autumn Festival. We have a fantastic party in LEDFUL headquarter. On the back of our bright patent LED Display we are singing, dancing, playing games and enjoying this wonderful evening.


We wish our clients, suppliers' career and life as the moon of the Mid-Autumn Festival, bright, full and prosperous!


About Mid-Autumn Festival

The Moon or Mid-Autumn Festival, on the 15th day of the eighth lunar month, observes the biggest and brightest full moon of the year, the harvest moon. It is a Chinese important traditional festival. The Festival is a public holiday marked by family reunions, moon gazing, and the eating of moon cakes round pastries stuffed with red bean paste and an egg yolk, or fruit and preserves.


About Moon Cake

Moon cake symbolizes reunion, they are to Mid-Autumn Festival what mince pies are to Christmas. It is a celebration victory food. The seasonal round cakes traditionally have a sweet filling of lotus seed paste or red bean paste and often have one or more salted duck eggs in the center to represent the moon. And the moon is what this celebration is all about.